Reblogged from source with thanks @ https://arstechnica.com/tech-policy/2018/03/non-lethal-weapon-dod-seeks-to-use-lasers-to-create-shouting-will-o-the-wisp/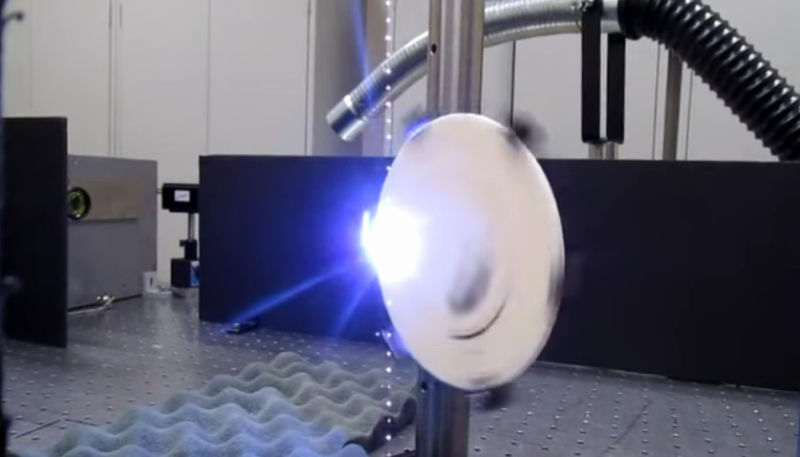 The Department of Defense's Joint Non-Lethal Weapons Development Program (JNLWD) is closing in on a directed energy weapon that can literally tell people to go away—creating sound waves with laser pulses that can annoy, frighten, or otherwise send the message to people approaching a military unit that getting closer is not a good idea.
The Non-Lethal Laser-Induced Plasma Effect (NL-LIPE) system can be used to manipulate air molecules, creating a ball of plasma that oscillates to create sound waves with a stream of femtosecond-long laser bursts.
A first laser creates the plasma ball, and a second then oscillates the plasma ball to create the sound. As Defense One's Patrick Tucker reports, the current Laser-Induced Plasma Effect implementation can only manage an indistinguishable mumble—though it can create a wide variety of very distinguishable sounds, as demonstrated in the video below
David Law, JNLWD's Technology Division chief, believes that, within the next three years, the system will be able to create intelligible speech from a glowing ball of plasma hovering in the air at a distance. "We're this close to getting it to speak to us," Law told Tucker. "I need three or four more kilohertz."
Advertisement
While it can't talk clearly yet, NL-LIPE can create the equivalent of a stun grenade (or "flashbang"), and it could be combined with other non-lethal laser applications. NL-LIPE could also be used to scorch or burn clothing, as shown in this DOD video.
.
NL-LIPE is just one of a variety of non-lethal systems the military is researching to provide soldiers with "area denial" tools beyond the deadly kind. Other non-lethal weapons in development include the Active Denial System, a long-range millimeter-wave directed-energy weapon that "creates a heating sensation," as JNLWD puts it, to keep crowds at a distance without causing injury. And the Marine Corps is acquiring a "hail and warning" device called the Ocular Interrupter System—a green laser system combined with a range-finder that can be aimed at someone up to 500 meters.